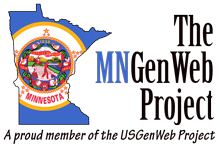 -

Welcome to the MNGenWeb Dodge County genealogy & history website.
I am looking for new information to add to this website and would welcome births, deaths,
biographies, genealogies, photos, or any other information you may have to share.
Please contact me by email and put Dodge County in the subject line.
Thanks, Shirley
Dodge County was organized for local government in 1855.
Search the Dodge County website!
Thanks to all the volunteers that make this website possible!
---
Today genealogy research is made easier with technology. In years gone by, researchers were limited by geographical distances, snail mail and various other obstacles. Today, with the click of a mouse, we are able to find links to genealogical resources and other family researchers in the blink of a cursor. My desire is that through the information and links provided throughout the Dodge County Website, you will find your search fruitful.
Remember, I am only the information coordinator... This is your website.
If you know of related websites or resources, please contact me by e-mail
and I will be happy to add the information to the website.
Check back often... you never know when new resources will be added.
Please do not ask me to help with your research because I don't live in MN
though I do have family ties to Dodge & Olmsted Counties.
MNGenWeb
Dodge County Coordinator
---

Timothy Stowell
MNGenWeb State Coordinator
---

Email me: MNGenWeb
Dodge County Coordinator
This site was updated: January 10, 2016
©
2016-2021 for the MNGenWeb Project